Student Spotlight: Kyla Leacox
As a Division I swimmer and a fourth-year biochemical engineering major, Kyla Leacox is a master of balance. She has made the most of her time at UC Davis as a standout swimmer and an undergraduate researcher and tutor in the chemical engineering department.
Leacox grew up swimming competitively as she became interested in science in school. She continued both at UC Davis, joining the swim team and becoming a biochemical engineering major because the field combined biology, chemistry and physics.
"I liked all the sciences and couldn't choose just one of them," she said. "It was the same thing in swimming. I like every stroke, so I do individual medley (IM), which combines all four strokes. I like to dip my toes in every single pool."
Learning to Balance
Though she did not compete this year due to the pandemic, Leacox was a standout IM swimmer in her first three years on the team. She set three of the top 10 records in school history the 200-meter event, had the second-fastest time in school history in the 100-meter and finished third in the 2019 Mountain Pacific Sports Federation championship 400-meter.
Though swimming required an intense commitment, she made sure to keep her classes a priority.
"I really valued my academic performance," she said. "I think if I hadn't been performing well academically, I mostly likely wouldn't have continued my athletic career."
Leacox excelled in class, becoming a tutor in the chemical engineering (CHE) department for multiple courses and upon graduating, she received a citation for exemplary academic performance in her major. Her favorite courses were mass transfer (ECH 143), as well as all her lab classes.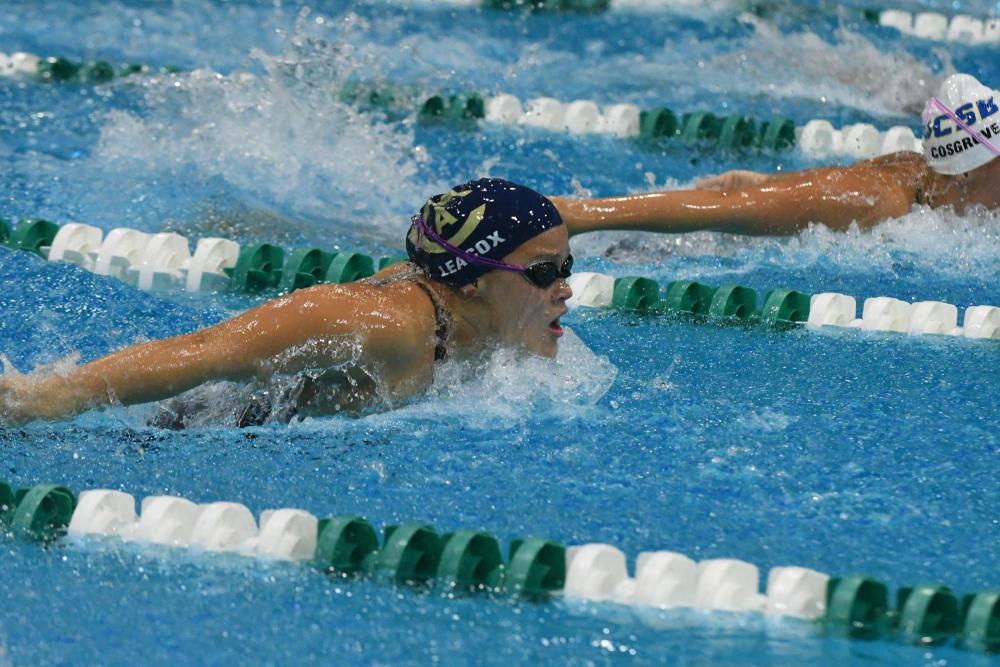 Balancing her academic and athletic life required Leacox to use her time wisely. When a class conflicted with practice, she trained on her own to make up for it, and she often worked on assignments in her down time at the pool and on the quad between practice, travel and swim meets. She even took a handful of midterms in hotels and on flights while the team was traveling.
"It's a lot of adapting and doing whatever you can, wherever you can because otherwise you'll get behind," she said.
A good example of her balancing skills was a conference meet during her junior year in 2019. She placed in the top 8 in every event she swam in while performing well on the assignments she had to work on when she wasn't at the pool.
"That's a proud moment for me," she said. "I was able to really put it all out there at the pool, and then come back to the hotel and do homework, study, take the midterms and still manage to do well."
Part of Something Bigger
Though her schedule was rigorous, Leacox was supported by her professors and the community of her fellow athlete-engineers. She gave back though her involvement with AGS, a student organization that advocates for student athlete mental health.
"There's enough athletes in engineering who relate to you, so you don't really feel that crazy and you have comrades in all your classes," she said.
Outside of class, she also worked as an undergraduate researcher in CHE associate professor Jiandi Wan's group on a project to improve cell growth for 3D-printed organs. The goal is to eventually develop a lab-grown analog to human intestines that can be used to test pharmaceuticals and push the medical field forward.
"A lot of this research done is the first step toward something bigger, so it's cool to be a part of it," she said. "For example, if you can develop a functioning organ that interacts with drugs in the same way an animal would, you can reduce the need for animal testing."
Leacox has always been interested in biotechnology and hopes to one day work at a startup in the field. After she graduates, she hopes to continue gaining experience and exploring her interest in coding and computer science to make a difference.
Primary Category
Tags