Graduate Alumni Spotlight: Jasmine Corbin
My favorite part of Davis was the sense of community: The whole university, and even the whole city, really feels like one team working together, trying to make the world a better place. Everyone supports one another's goals and successes. I was able to participate in so many communities--the Chemical Engineering department, the Biotechnology Program, the graduate diversity community, and many more. Each of these helped me to reach my goals and become the person I am today.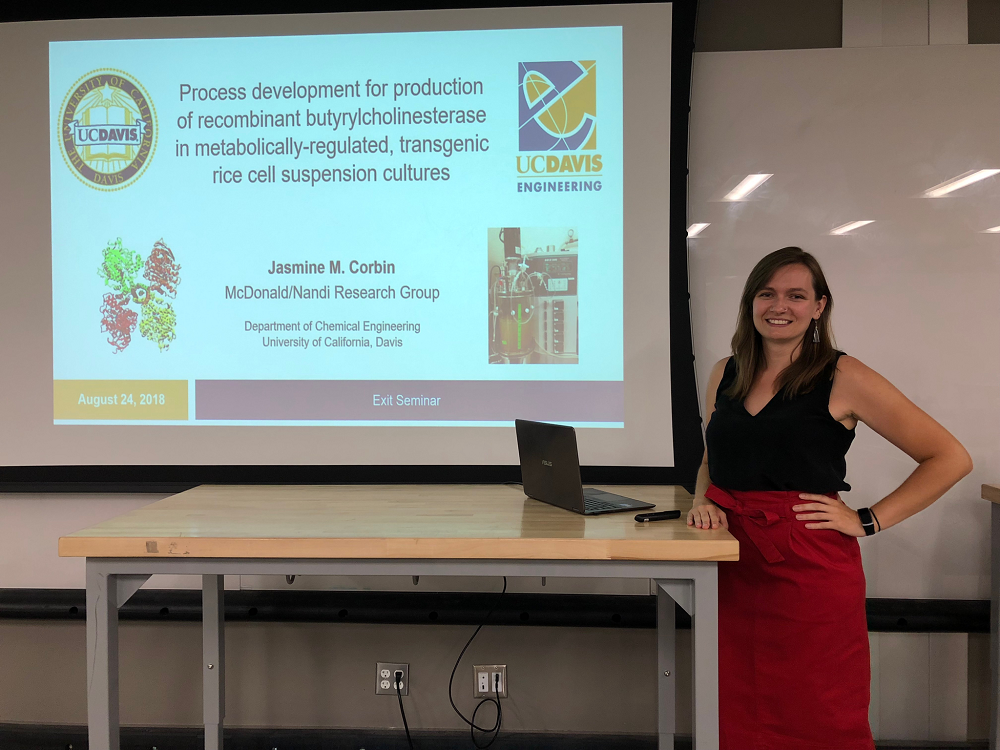 I chose to attend UC Davis for 1) the aforementioned sense of community, and 2) the practical preparation I would get for my future. I knew from the start that I wanted a career in the biotech industry. At UC Davis, my group collaborated heavily with other groups in Chemical Engineering, Chemistry, Plant Sciences, Molecular and Cellular Biology, and more, which exposed me to a broader range of experiences and taught me how to communicate with groups of people who may not have exactly my vocabulary and background. Through the Biotechnology Program, I was able to deepen those collaborations and learn how to practically prepare for a job in the biotech industry. I am 100% confident that my industry internship as part of the Biotech Program played a huge role in getting my top choice job right at graduation.
My most memorable experiences are the simple, non-glamorous ones: Learning from and later teaching my labmates, talking through results in the office, munching bagels and over-caffeinating at CBDD, walking through the Arboretum, and enjoying the quiet halls of Bainer in the summer. 
My advice to incoming or prospective graduate students is to remember that struggling and making mistakes is an essential part of getting a graduate degree. It can be easy to get bogged down by hard classes, negative results, and huge workloads. I know I did. But all those difficulties are what allow you to learn and come out stronger and better prepared on the other side. Since starting work, I find that the things I struggled with in grad school are the things I now know best.  
I currently work as a scientist at a small biotech company called Allakos doing cell culture process development. Our company has a drug going through clinical trials to treat a specific type of allergy. My group's job is to develop, optimize, and characterize the process for producing that drug in cells to ensure that our process is robust and our product is consistent. It's hard work, but I love it.
Primary Category
Tags