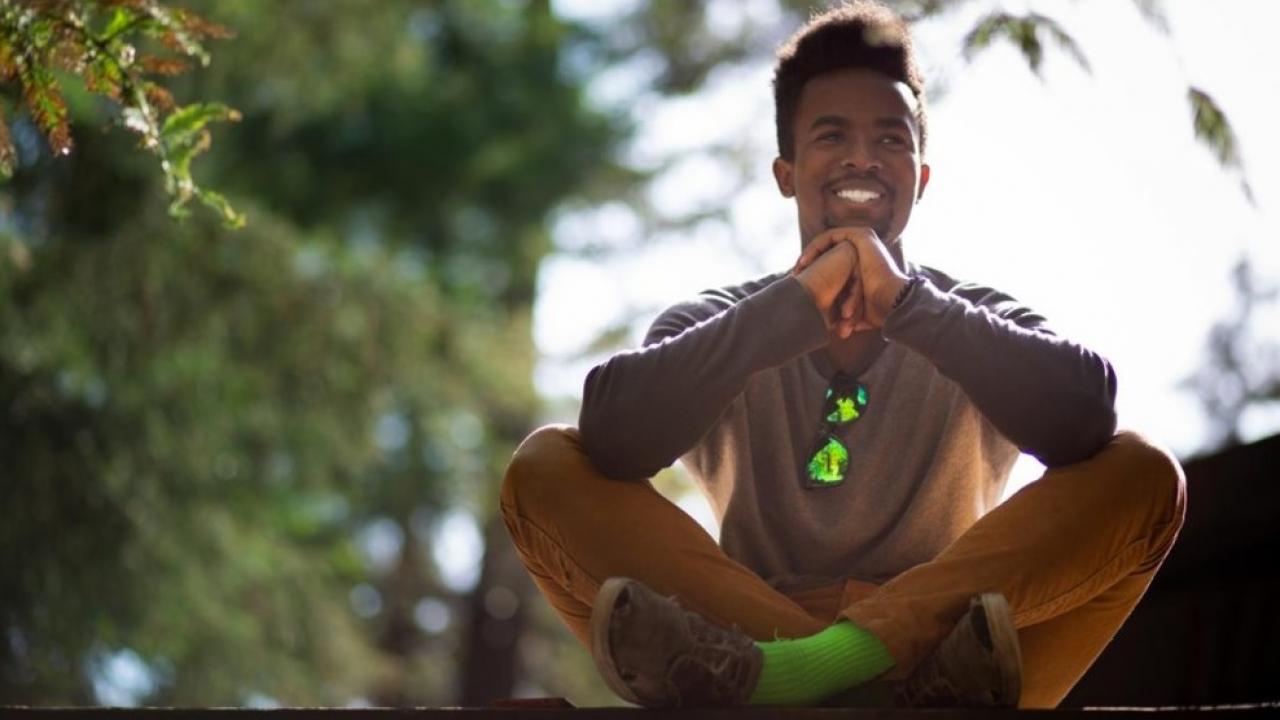 By Sharon Knox
Semaj Troupe's family has been his biggest motivation for coming to UC Davis to study chemical engineering. The third oldest of 10 children, he is the first to go to college. Throughout high school he was inspired by his dad, who took college classes while working and raising a family.
"He kept trying. He just got his degree. It was inspiring – he understands the importance of education. I felt like if he was continuing to do this and working really hard, then why couldn't I do it too – go to college and be an example to my siblings," Semaj said.
Seeing the reactions of his family and younger siblings to Semaj's success in high school also motivated him to pursue a college education.
"I was killing the game senior year. I was prom king and I got an awesome scholarship. Seeing that effect on my family – they were like, 'Oh Semaj, we're so proud of you' – I motivated my family and my younger siblings. I found that to be pretty awesome."
Semaj is one of 47 Gates Millennium Scholars at UC Davis. Supported by a grant from the Bill & Melinda Gates Foundation, the highly selective national scholarship funds first-generation college students of high academic achievement and leadership excellence to attend the university of their choice. 
UC Davis, Engineering, and Belonging
Semaj decided to apply to UC Davis after visiting campus during an Upward Bound college tour. The visit made a lasting impression on Semaj.
"I remember trying to copy my tour guide and walk backwards. I felt at home – it was small town, very nature oriented, very different from Los Angeles, but a good type of different," Semaj says. "It's peaceful and there's not as much noise."
However, one thing Semaj noticed immediately upon his arrival to Davis, was the lack of diversity compared to his hometown of Los Angeles.
"When I got here, I felt like the only person who was black. I didn't know if I should actually be here. At the same time, I got in here by applying and I knew that I could do the work. In some ways, I feel like there's always a doubt, but now this is my home." 
Semaj's pathway to UC Davis and engineering was inspired by a high school math teacher, Mr. Alvarez, who encouraged his students with strong math skills to pursue engineering.
"I always went early to his class to learn – if you were interested in math he was definitely going to [get] you there. I didn't apply [to UC Davis] as an engineering major but I knew I wanted to switch in. I came in as a biochemistry major, did the 21 series. I fell in love with chemistry because of Dr. Enderle, and because I fell in love with chemistry, I decided to do chemical engineering."
Another experience at Davis that reinforced Semaj's love for chemical engineering was the course ECH 5: Introduction to Chemical Engineering Coffee Lab. The hands-on course is a more advanced, mathematical version of the wildly popular ECM 1: The Design of Coffee, which takes an engineering approach to the roasting and brewing of coffee.
"That [class] was the deciding factor," Semaj exclaims.
Advice for His Younger Siblings (and Other First-Gen Students)
Semaj was the first of his siblings to attend college, but it wasn't long before his young siblings followed. Semaj's brother Ethan just finished his first year at UC Berkeley.
"I'm really proud of that guy," he smiles. "The goal is to get every one of my siblings to northern California."
He has some advice for them:
"Don't doubt yourself, know that you do belong where you are."
"We often put unnecessary pressure on ourselves to be trailblazers. Don't carry things on your shoulders. Figure out a way to better deal with that pressure."
"Build friendships. In every situation, you meet the people you need to know. Be open to chance encounters, and take advantage of them to help you grow and understand."
And, lastly, "don't feel upset if people refer to you as "Semaj's brother," he laughs.
Looking to a Future in International Development
Motivated by desires to travel and to help underserved communities, Semaj was drawn to activities related to international development. During his first year at Davis, he joined the local Engineers Without Borders chapter on a friend's recommendation. The group partners with groups around the globe to help developing communities sustainably meet their basic human needs
"I didn't know how to get involved, so I started going to meetings just sitting in. They were very welcoming," he says.
By his sophomore year, Semaj had become the group's public outreach chair. This summer, Semaj is traveling to Peru on a grant from the UC Davis Blum Center for Developing Economies to work on a reservoir project.
In the future, he hopes to work in the UC Davis D-Lab with adjunct assistant professor Kurt Kornbluth, who leads research and service efforts in climate neutrality, renewable energy and global food sustainability.
This story was originally posted and adapted from the UC Davis First-Gen website. Do you have a first-generation faculty or student story to share? Let us know.
Category
Tags