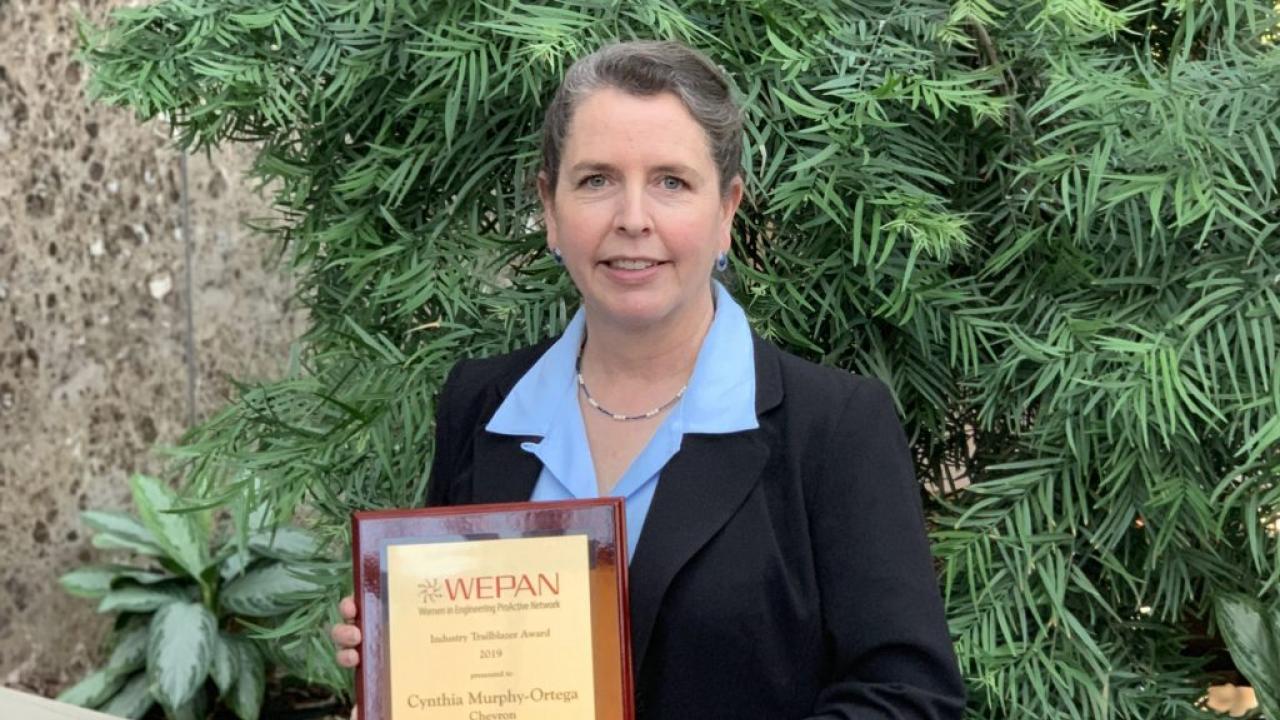 By Rachel Furtado
College of Engineering alumna Cynthia Murphy-Ortega was recognized for her contribution to enhancing and inspiring the career success of women in STEM with this year's Industry Trailblazer Award from Women in Engineering ProActive Network (WEPAN).
Murphy-Ortega graduated from UC Davis with a bachelor's degree in chemical engineering in 1991. After graduating, she joined Chevron as an engineer and quickly volunteered to support campus recruitment efforts. She now serves as a manager in their University Partnerships and Association Relations group, where she develops strategic relationships with universities and national associations to support the curriculum, faculty and facilities that are needed to lead students to success after college.
"I have focused my personal and professional work on helping students and new employees in the STEM fields be successful and achieve their dreams. As a female and Hispanic chemical engineer, I have a true passion for my work and I want to help women and underrepresented minorities find their own passion as well," said Murphy-Ortega.
Murphy-Ortega also serves on the Engineering Dean's Executive Committee and the program advisory committee for the Leadership in Engineering Advancement Diversity and Retention program at UC Davis, where she was influential in Chevron's founding partnership of the program, as well as the Avenue-E community college transfer program designed to recruit, retain and graduate diverse populations of students.
"I am honored and humbled to receive this special award, which was a complete surprise, and I am very proud to help serve as a role model and inspiration for others," said Murphy-Ortega. "I dedicate time to speak with students, faculty, leaders and the broader community, so I can tell my personal story to hopefully help others be successful. I am thankful for all of the women and mentors who have been trailblazers before me and I will continue to blaze a trail for others."
The Industry Trailblazer Award recognizes the employer or employee in industry for their exceptional volunteer contributions to the STEM education at the primary, secondary or collegiate levels, especially in reaching girls from groups underrepresented in STEM fields. The name of the award signifies the ability of an employer or employee to "blaze a pathway" through the artificial barriers that prevent women in STEM professions of diverse backgrounds from attaining their full potential.
WEPAN is the leading champion in North America for leveraging research and best practices to propel the inclusion of women in the field of engineering. WEPAN's network connects advocates who actively pursue strategies and implement solutions to increase participation, retention and success of women and other under-represented groups in engineering from college to executive leadership.
Related Story: Two CHE Alumni Honored with Distinguished Engineering Alumni Medals
Category
Tags